Geopolitical upheavals and global climate change, as well as high energy costs and intensified technological competition, pose serious challenges for the European Union. This requires Europe to be less wishy-washy about its visions and more about clear strategies, political determination and the courage to come up with new ideas.
Europe's current "operating system" thus urgently needs an update that can also withstand a complex reality. To achieve this, Europe must overcome structural problems that are largely based on its own failures.
These are key findings of an analysis by the FERI Cognitive Finance Institute in collaboration with the renowned Centres for European Policy Network. The study "Quo vadis, Europa? - Am Scheideweg: Globale Herausforderungen, interne Defizite und dringende Handlungsoptionen" (Quo vadis, Europe? - At the Crossroads: Global Challenges, Internal Deficits and Urgent Options for Action) provides further exciting insights as well as strategic options for action for the future viability of the European economic model.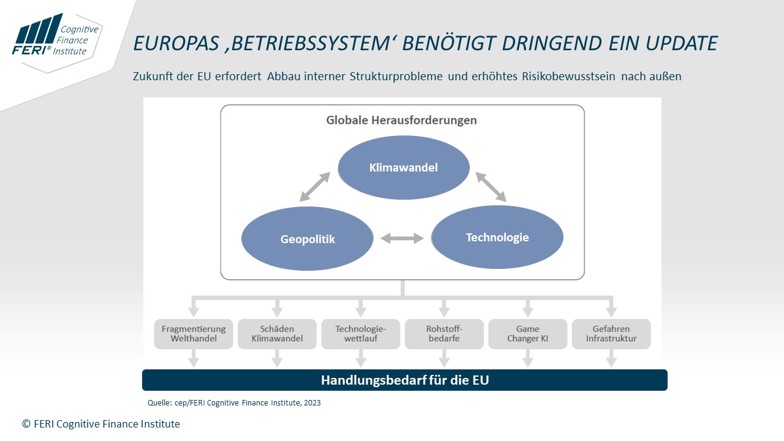 The short version of the German study can be found in the download area of ​​this page.
Would you like to read more? You can order the long version of the German study free of charge below.